Biography
Thai H. Vu, DO is a board certified physician in Physical Medicine & Rehabilitation (PM&R) and completed a subspecialty fellowship in Interventional Spine & Sports Medicine. As a physiatrist, he specializes in the care of acute and chronic musculoskeletal and spine conditions.
Dr. Vu received a Bachelor of Science with honors in Public Health from the University of Texas at Austin and a medical degree at A.T. Still University School of Osteopathic Medicine in Arizona. He then went on to complete his residency training in Physical Medicine & Rehabilitation at the University of Washington in Seattle and a fellowship in Interventional Spine & Sports Medicine at Hospital for Special Surgery (HSS) in New York.
Treating patients with spine (i.e. neck, back, buttock) pain as well as musculoskeletal issues (i.e. shoulder, elbow, wrist, hip, knee, foot/ankle), Dr. Vu's goal is to help his patients return to, and optimally perform at, their chosen activities while promoting a healthy and active lifestyle. When managing patients with spine or joint pain, Dr. Vu believes in a holistic approach regardless of the medical condition. After a thorough evaluation, each patient is given a personalized treatment plan which may include medication or a physical therapy prescription.
When procedures are indicated, Dr. Vu is skilled in fluoroscopic-guided injections of the spine (i.e. epidural steroid injections, nerve blocks, facet injections, and radiofrequency ablation) as well as ultrasound-guided injections for joint, tendon and muscle issues using steroid, platelet-rich plasma (PRP) and hyaluronic acid. Other procedures include intraarticular facet injections, genicular nerve ablation, ultrasound-guided joint, tendon and bursa injections, joint viscosupplementation injections, electromyography and nerve conduction studies, intramuscular trigger point injections and, hopefully in the near future, extracorporeal shockwave therapy.
Dr. Vu's academic interests include regenerative medicine, evidence-based spine care, and applications of extracorporeal shockwave therapy for tendon pathology. A strong believer in the power of physical activity and movement, he also has an interest in workplace ergonomics, correction of muscle imbalances and the biomechanics of running. Additionally, Dr. Vu is an active member of several medical societies including the Spine Intervention Society, the North American Spine Society, the American Pain Association, the American Academy of Physical Medicine & Rehabilitation and the Association of Academic Physiatrist.
When not treating patients, Dr. Vu enjoys hiking, cycling, fishing, snowboarding, and spending time with his wife on the beach. A newcomer to Southern California, he is excited to learn how to surf and explore Ventura County.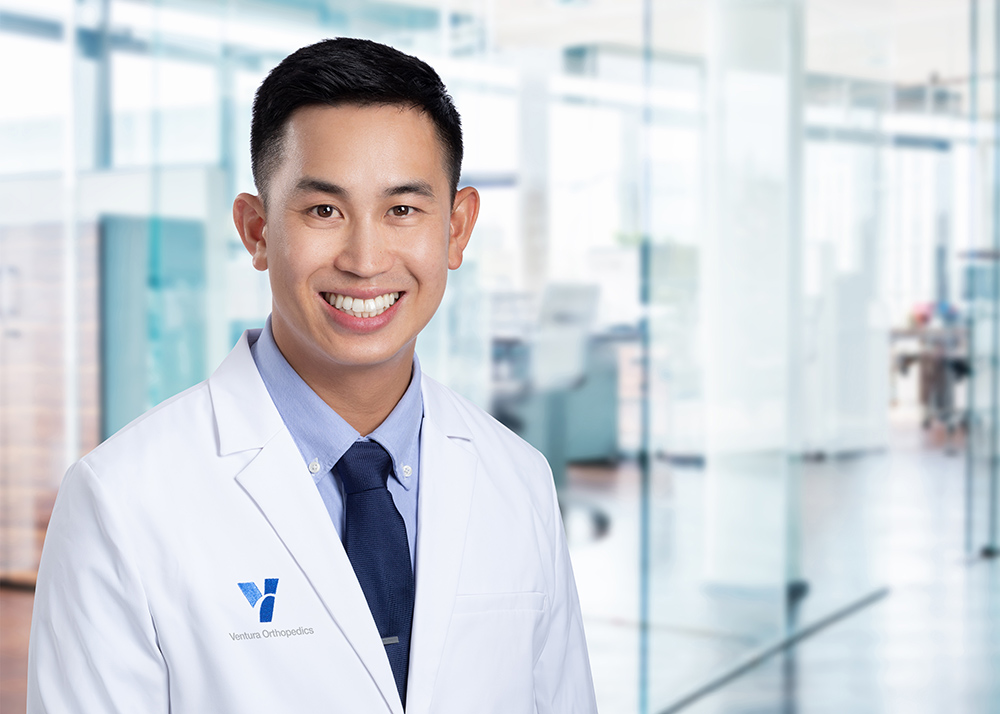 Education & Training
Undergraduate Studies
University of Texas
Medical School
A.T. Still University School of Osteopathic Medicine
Internship
Internal Medicine, The Christ Hospital
Residency
Physical Medicine & Rehabilitation, University of Washington
Fellowship
Interventional Spine & Sports Medicine, Hospital for Special Surgery (HSS)
Board Certification
Physical Medicine & Rehabilitation, American Board of Physical Medicine and Rehabilitation
Professional Affiliations
Spine Intervention Society
North American Spine Society
American Pain Association
American Academy of Physical Medicine & Rehabilitation
Association of Academic Physiatrists