Patient Story: Submitted by Craig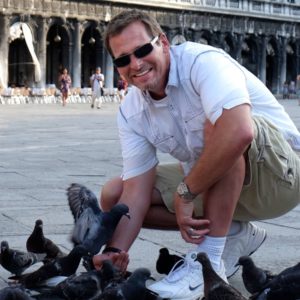 "As a police officer, I always imagined if I got seriously injured, it would be doing something like chasing suspects through a construction zone or sliding across the hood of my cruiser. However, several years ago while I was assisting someone out of the back seat of a vehicle, my foot was on a raised curb line near the door, the vehicle was parked close to the curb. After getting the person out of my back seat, my foot slipped off the curb and my knee bent in an unusual manner.  As my body weight placed pressure on my knee, an excruciating pain engulfed my leg.
The pain continued for a while until it eventually subsided, but I was still unable to walk normally for an extended amount of time. This was a problem as my job requires me to be able to run, sprint and occasionally jump over barriers.
Eventually, I went to seek for help at Ventura Orthopedics where I had images taken. Dr. Hartman was very knowledgeable and was able to explain why my knee was causing so much pain. He was professional and familiar with physical fitness through weight resistance and cardio training, which is something I enjoy. Unfortunately, I was informed that I tore my meniscus and needed surgery in order to correct the problem.
After the surgery and a two-month recovery period, I was able to walk normally and run at a moderate level. After six months post-surgery, I was able to run for extended periods and at various speeds with no pain.
I appreciated the time, effort and education provided to me from Ventura Orthopedics. I have fully recovered and am able to perform all activities without a problem."
Do you have an inspiring story to tell about your experience?
We would love to hear it! To submit your story, click the button to the right and simply fill out the form. Once we have a chance to review your story, we'll contact you to let you know when it will be featured on our site.